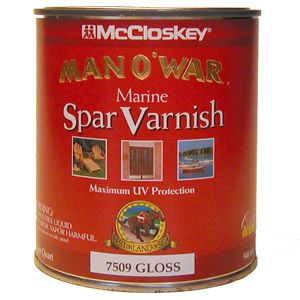 In TV programs from the '40s and '50s, there is often an antagonist in the form of an older individual which just doesn't get those darn kids. Often, they are addressed by their last name, preceded by the honorific "Old Man".

There is a product which has been used for decades
to seal wood which must weather the outdoors. It is known as spar varnish. Now "spar" in this sense does not refer to feigned pugilistic intent, rather, it is the mast of a boat. I imagine that masts are fairly important, as entire boats are made of wood in need of varnish, yet it is the spar which the product is named for.

Roundabout though it may be, I'm getting at an important point. McCloskey is a brand of spar varnish, bearing the full label: McCloskey's Man-O-War Marine Spar Varnish. A man-o-war is a type of jellyfish from Portugal, so I'm not sure what it's doing moonlighting in varnish, but the name McCloskey is one of those old-timey names that amuses me endlessly. First, I instantly thought of Old
Man McCloskey chasing that whippersnapper [insert old-timey kid name] from the candy shop.

Also, it'd be a great name for a sandwich. I imagine Jimmy Durante ordering one: "Make that a McCloskey on Rye, Mac- hold the pickles and make it snappy. hah-cha-cha."

In addition to applying McCloskey's Man-O-War Marine Spar Varnish to the outside bench/table things, I installed a 42-inch Samsung HD set on a motorized mount, and had DirecTV set me up, so that thirsty customers can watch the Sharks win while blowing the froth off a couple. I've always held that hockey goes best with a copper red ale, and some onion rings.


Moreover, we had our first meal at Barley and Hops. The first meal ever to be cooked and eaten at the tavern consisted of two pannini sandwiches (I calls 'em a McCloskey), some wierdly good organic snack bite thingies, and chips with salsa. It was eclecticly delicious, and the pannini press and convection oven work respectively like charms.

In other news, the high table stands have arrived, and the bar area is practically set up as it will be for service. The bar-height tables are great- they save space, and give diners an option to see the TV in the more casual bar area (as opposed to the black-tie formal dining we are planning for the rest of the restaurant).

A couple of days ago, the owner of the Inn at Occidental, Jerry, stopped by, and agreed to put our menu and entertainment schedule in their giant book of Occidental things to do. This is the same great place that my folks stayed at, and can't stop raving about. How many B+B suites out there have a private hot tube alcove, complete with Adirondack chairs? (Hint: it's 5) It's been great how everyone in town has stopped in to show their support. Every day, we meet someone new (which means by this time next week, we'll literally know everyone in town) wishing us well. It's uncanny and wonderful. Mr. McCloskey himself wouldn't have asked for a more welcoming place to live (with his jellyfish and boat masts).